Staff Pick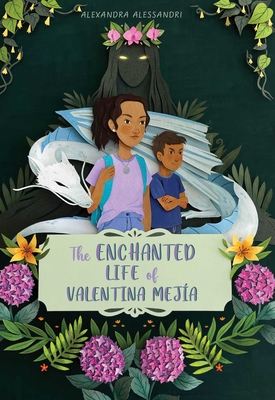 The Enchanted Life of Valentina Mejía
Publication Date:
February 21st, 2023
Publisher:
Atheneum Books for Young Readers
Diane's Books of Greenwich
1 on hand, as of Sep 30 5:15pm
(CHILD MIDDLE READERS)
On Our Shelves Now
Staff Reviews
Yes! This book hooks you from the first page. I'm always ready for a book exploring new cultures, lands, and if I'm lucky mythologies! Valentina, her brother and father are trekking through the Andes in search of a rare creature when the land beneath them gives way. 
Read about Colombian legends and how this family finds a happy ending. 
— Dimple, Diane's Books of Greenwich
Description
Encanto meets The Chronicles of Narnia by way of Colombian folklore in this middle grade fantasy adventure. To save their father's life, a brother and sister must journey across a land full of mythical creatures and find the most powerful and dangerous of them all: the madremonte.
Twelve-year-old Valentina wants to focus on drawing the real world around her and hopefully get into art school in Bogotá one day, but Papi has spent his life studying Colombia's legendary creatures and searching for proof of their existence. So when Papi hears that a patasola—a vampire woman with one leg—has been sighted in the Andes, Valentina and her younger brother Julián get dragged along on another magical creature hunt.
While they're in the Andes, a powerful earthquake hits. Valentina and Julián fall through the earth…and find an alternate Colombia where, to Valentina's shock, all the legends are real.
To get home, Valentina and Julián must make a treacherous journey to reach this land's ruler: the madremonte, mother and protector of the earth. She controls the only portal back to the human world—but she absolutely hates humans, and she'll do anything to defend her land.
Praise for The Enchanted Life of Valentina Mejía
* "With the action beginning on the first page, this fast-paced adventure set in a well-realized world will keep readers on their toes. Modern kids meet traditional tales with thrilling results."
— Kirkus Reviews, starred review
"Beautiful prose combines with gripping adventure in this magical ode to Colombia and its legends. Fans of Roseanne Brown's Serwa Boateng's Guide to Vampire Hunting (2022) and Zoraida Córdova's Valentina Salazar Is Not a Monster Hunter (2022) will adore this book, for both its mythic monsters and its plucky heroine."
— Booklist
"An exceptionally well-crafted story brimming with mythological creatures, captivating characters, and non-stop adventure. A wonderful book to be read by all!"
— Christina Diaz Gonzalez, bestselling author of Invisible
"Alessandri expertly weaves an immersive tale bursting at the seams with folklore, enchantments, and spirit."
— Publishers Weekly
"The Enchanted Life of Valentina Mejía is a fast-paced, epic adventure in a vivid, magical world. Readers will love rooting for Valentina to overcome her obstacles as they devour this enchanting tale."
— Joy McCullough, award-winning author of Code Red and Not Starring Zadie Louise
"An absolute gem of a book that kept me on the edge of my seat. Readers will cheer this plucky Colombian girl as she navigates dangers, learns how the magical world connects to our own, and chooses kindness even at personal risk. The ending made my heart soar! Truly enchanting!"
— Rebecca Balcárcel, author of Pura Belpré Honor Book The Other Half of Happy and Shine On, Luz Véliz!
"This non-stop adventure filled with mythological creatures and magical lands will excite readers and keep them turning the page."
— Adrianna Cuevas, author of Pura Belpré Honor Book The Total Eclipse of Nestor Lopez and Cuba in My Pocket
"An adventurous journey that is by turns bone-chilling and joyful."
— The Bulletin of the Center for Children's Books
"Alessandri embeds Colombian folklore into a thrilling tale that centers sibling relationships, eco-justice, border crossing, and intergenerational family wounds. Readers who love mythology, adventure, and suspense will root for Valentina as she embarks on her hero's journey."
— Horn Book