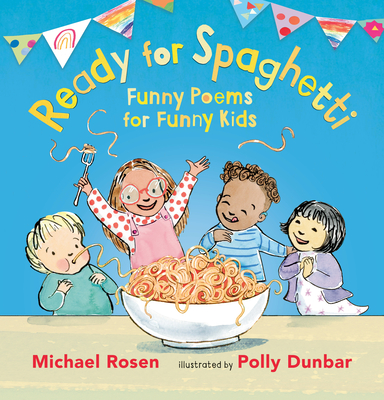 Ready for Spaghetti: Funny Poems for Funny Kids
Publication Date:
October 25th, 2022
Diane's Books of Greenwich
5 on hand, as of Sep 30 5:15pm
(CHILD PICTUREBOOKS)
On Our Shelves Now
Description
Former British Children's Laureate Michael Rosen and award-winning artist Polly Dunbar join forces for thirty-two irresistible rhymes that revel in toddlers' everyday lives.
Will you getti the spaghetti?
Don't say, "Not yetti spaghetti!"
I'm all setti for spaghetti.


Fizzing with rhythm, energy, and laughter, this perfect gift-book introduction to poetry celebrates the day-to-day routines of early childhood. From the rise-and-shine exuberance of "Up, up, uppity-up!" to the sweet lull of "Hush and a hush/soft and low," colorful pages abound with observations of ordinary moments, from brushing your teeth to digging in a sandbox, that mirror a childlike day-in-the-life. Poetic bounty at its best and brightest, this playful and affectionate read-aloud treasure will have toddlers clamoring for more, for the sheer fun of it.
Praise for Ready for Spaghetti: Funny Poems for Funny Kids
Endearing. . . the playful aesthetic will undoubtedly appeal to toddlers and preschoolers who are beginning to develop a love of language. The musicality of the writing encourages adults to share in the fun as they read the poems out loud—and ­perhaps invent whimsical rhymes of their own. . . . A delightful introduction to poetry; a valuable ­potential bonding experience for young children and their ­caregivers.
—School Library Journal
Dunbar's watercolors, depicting a racially diverse cast of laughing, active children in pajamas or play clothes, reflect the celebratory tone of Rosen's breezy miniverses, which are not only suitable for chanting or singing as well as silent reading, but are often structured to make it easy for children to add their own rhymes and embellishments. . . . Irresistible invitations to engage and interact with words.
—Kirkus Reviews
Dunbar's loose-lined ink and watercolor illustrations, meanwhile, depict children of various abilities and skin tones engaging in the activities together. Pages abound with the glee that arises when each day promises new discoveries—linguistic and otherwise.
—Publishers Weekly
Arranged in order of a child's day, Rosen's poems are full of sound effects and not-quite-nonsense words. . . Don't be surprised if these poems' easily memorized and malleable short lines ("Bibble, bobble, bubble / dibble dobble double… / You can't catch the bubble, / The bubble can't catch me") become household refrains.
—The Horn Book