Staff Pick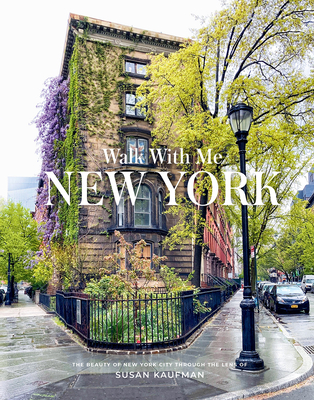 Walk With Me: New York
Publication Date:
May 24th, 2022
Publisher:
Harry N. Abrams
Diane's Books of Greenwich
7 on hand, as of Sep 30 5:15pm
(REFERENCE)
On Our Shelves Now
Description
From photographer Susan Kaufman, an intimate celebration of the beauty and charm of New York City
For some people, New York City exists only in their imaginations, a big-screen beacon of wonder and twenty-four seven delight. For others, it's a dream destination: the diverse urban center where they will finally feel they belong. And still for many, it's the place they already call home. No matter how you view New York, longtime fashion editor and photographer Susan Kaufman will help you see the city with fresh, appreciative eyes.
As she travels with her camera through New York, Susan Kaufman invites readers to see the city as she does: from the sidewalk. She explores the beauty of the city found in its charming townhouses, decorated shops, lovely parks, shop facades, and serene streetscapes. New York may be known as the city that never sleeps, but beneath the bustle, there's a soulful side, with its own quiet power and universal allure. Walk with Me New York invites readers to appreciate the streets and buildings that have made the world's most iconic city survive centuries of change yet retain its vitality and aspirational magnetism.
Praise for Walk With Me: New York
Coffee Table Pick! "Whether you're a denizen or a stranger to the Big Apple's streets, these gorgeous shots … will make you feel the magic."—People Magazine
"Walk With Me" is a lovely reminder for us all to slow down and be more reflective. Linger for moment and admire the flowers in a window box, the history of a street, or the door of a West Fourth Street brownstone. These small discoveries, these photo-worthy moments, especially in one's own hometown, offer us a bit of balance in a fast-paced world."—The East Hampton Star
"Features more than 200 photos of some of the often-overlooked spots that make NYC so beautiful, from it parks and cafes to building facades."—Serendipity Magazine
" a wonderful new photobook … reveals the beauty of NYC in all seasons."—The New Yorker Life
"To all my displacedNew Yorkers, or just New York lovers, run and get this book by @skaufman4050-her photography is incredible and she captures the city in such a special way."—Olivia Brock, Interior Designer
"This is the most gorgeous coffee table book ever. Her photography is stunning and she does such a beautiful job capturing both iconic buildings and hidden gems in NYC. This book makes for an absolutely perfect gift!"—Fran Hauser, Author and Entrepreneur
"This is for anyone who wants to walk around New York and discover beautiful neighborhoods."—Laurie Collins, Digital Creator @dccitygirl
"Another must-have: a new book showcasing the beauty of New York through the lens of Susan Kaufman."—Noel Y. Calingasan, Digital Creator @nyclovesnyc
"A gorgeous love letter to NYC."—Peter Som, Creative Director
"I will be using this book to find all of the most beautiful facades in NYC!"—Melissa Male, Digital Creator @melissamale
"Please do check out Walk With Me: New York, her imagery is perfection!"—Paula Sutton, Author and Digital Creator@hillhousevintage
"From one Sunday stroll addicted New Yorker to another, get this book!"—Michael Ausiello, President & Editorial Director TVLine.com
When my friend Susan left her career as a high-powered magazine editor (she was most recently the editor-in-chief of People Style Watch), she quickly made her hobby of walking around New York City and taking photos with her iPhone into a wildly successful Instagram account and a whole new career! I am so excited to announce that her recently launched beautiful book, Walk with Me New York became an instant best seller is so much fun to read, and makes the perfect gift.—Andrea Linett, Author & Blogger
An absolutely enchanting guide. Even after living in New York City for years, I found new places to go and saw familiar things in magical ways. Susan Kaufman's eye and taste are exquisite.—Delia Ephron, author of Left on Tenth.