Staff Pick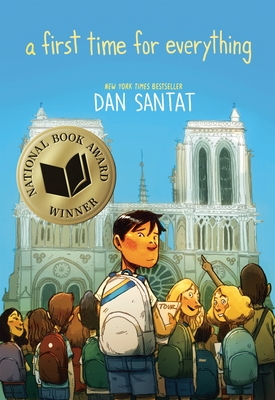 A First Time for Everything
Publication Date:
February 28th, 2023
Diane's Books of Greenwich
3 on hand, as of Sep 30 5:15pm
(CHILD OLDER READERS)
On Our Shelves Now
Staff Reviews
The book is set in 1989, during the summer weeks that Dan toured Europe with a small group of rising ninth graders. It's his first time experiencing the world outside his small California town; his first time crushing on a girl; his first time seeing himself as more than a shy, skinny, awkward boy. It's about sneaking into Wimbledon to watch John McEnroe and stealing a bicycle to escape a gang in the middle of the night. It's about the power of humor to transcend language barriers. It's about flashing back to mortifying moments of public speaking and botched attempts to talk to girls. 
It's a joy to experience Paris, Lucerne, Munich, Salzburg, and London through Dan's eyes, but it's even more gratifying to watch him embrace new independence, friendships, artistic expression, and the kind of adult he wants to be.
— Dimple, Diane's Books of Greenwich
Description
A middle grade graphic memoir based on bestselling author and Caldecott Medalist Dan Santat's awkward middle school years and the trip to Europe that changed his life.
Dan's always been a good kid. The kind of kid who listens to his teachers, helps his mom with grocery shopping, and stays out of trouble. But being a good kid doesn't stop him from being bullied and feeling like he's invisible, which is why Dan has low expectations when his parents send him on a class trip to Europe.
At first, he's right. He's stuck with the same girls from his middle school who love to make fun of him, and he doesn't know why his teacher insisted he come on this trip. But as he travels through France, Germany, Switzerland, and England, a series of first experiences begin to change him—first Fanta, first fondue, first time stealing a bike from German punk rockers... and first love.
Funny, heartwarming, and poignant, A First Time for Everything is a feel-good coming-of-age memoir based on New York Times bestselling author and Caldecott Medal winner Dan Santat's awkward middle school years. It celebrates a time that is universally challenging for many of us, but also life-changing as well.
Praise for After the Fall
"The author gives wings to both his protagonist and his message about the importance of getting back up after a fall and the realization that recovering from a trauma takes time." —Booklist, starred review

"Santat's precise illustrations and sensitive text combine for more emotional depth than the typical nursery rhyme remix. A terrific redemptive read-aloud for storytime and classroom sharing." —School Library Journal, starred review
Praise for A First Time for Everything
Longlisted for the 2023 National Book Award for Young People's Literature
A Junior Library Guild selection
"[Santat] unpacks his transformational experience with vulnerability and raw honesty--the sincerity is heartening and the outcome inspiring." —Shelf Awareness, starred review
"[A] relatable story of self-discovery... the perfect balance of humor and poignancy." —Kirkus, starred review
"[A] great read among a crowded field, especially for sensitive middle-grade boys." —Booklist, starred review

"A thoughtful memoir with lots of humor and heart." —School Library Journal, starred review

"[E]motionally perceptive" —Publisher's Weekly, starred review

"This is Santat at his best." —Horn Book

"Without preachiness or condescension, Santat gives readers a story that is both a reassuring hug and a nudge to get out there and experience the world beyond what they know." —The Bulletin of the Center for Children's Books
"Dan San tat perfectly captures all the humor, confusion, awkwardness, and pure joy of being a young person stepping out into the world. Read this book! You're going to love it, and you are going to laugh and cry so much!" —CHRISTINA SOONTORNVAT, two-time Newbery Honor Winner
"A humane, hilarious, and gently awkward story of seeing [your] world open up for the first time. It almost makes me wish I was a teen ager again. Almost." —VERA BROSGOL, New York Times–bestselling creator of Be Prepared

"Dan's book manages to capture all the things that make you fall in love in the first place—awkwardness,
humor, a bit of teen pathos, and most of all, sincerity and vulnerability." —LEUYEN PHAM, New York Times-bestselling illustrator of the Friends series
"A hilarious, beautiful, and cap tivating memoir about the cringeworthy catapult into adolescence." —JARRETT J. KROSOCZKA, National Book Award Finalist creator of Hey, Kiddo

Praise for Lift
"The story is beautifully told through Santat's expressive characters and dynamic panels of sequential art..... [It's] an entirely immersive experience that children will reach for, again and again, like their own magic button." —Booklist, starred review
Praise for Drawn Together
"[P]erfectly paced to express universal emotions that connect generations separated by time, experience, and even language." —School Library Journal, starred review