Staff Pick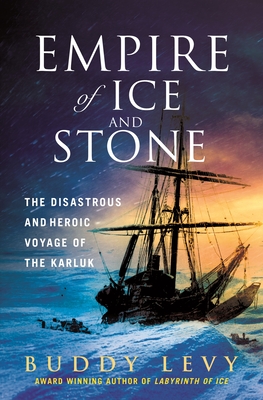 Empire of Ice and Stone: The Disastrous and Heroic Voyage of the Karluk
Publication Date:
December 6th, 2022
Publisher:
St. Martin's Press
Diane's Books of Greenwich
1 on hand, as of Sep 30 5:15pm
(HARD COVER NON-FICTION)
On Our Shelves Now
Imagining how it feels to watch your ship crushed by ice and leave you stranded on an ice floe at 30 degrees below zero is terrifying. Full of details, good and not-so-good characters, Levy brings us a great armchair adventure in the Arctic.
December 2022 Indie Next List
Description
The true, harrowing story of the ill-fated 1913 Canadian Arctic Expedition and the two men who came to define it.
In the summer of 1913, the wooden-hulled brigantine Karluk departed Canada for the Arctic Ocean. At the helm was Captain Bob Bartlett, considered the world's greatest living ice navigator. The expedition's visionary leader was a flamboyant impresario named Vilhjalmur Stefansson hungry for fame.
Just six weeks after the Karluk departed, giant ice floes closed in around her. As the ship became icebound, Stefansson disembarked with five companions and struck out on what he claimed was a 10-day caribou hunting trip. Most on board would never see him again.
Twenty-two men and an Inuit woman with two small daughters now stood on a mile-square ice floe, their ship and their original leader gone. Under Bartlett's leadership they built make-shift shelters, surviving the freezing darkness of Polar night. Captain Bartlett now made a difficult and courageous decision. He would take one of the young Inuit hunters and attempt a 1000-mile journey to save the shipwrecked survivors. It was their only hope.
Set against the backdrop of the Titanic disaster and World War I, filled with heroism, tragedy, and scientific discovery, Buddy Levy's Empire of Ice and Stone tells the story of two men and two distinctively different brands of leadership—one selfless, one self-serving—and how they would forever be bound by one of the most audacious and disastrous expeditions in polar history, considered the last great voyage of the Heroic Age of Discovery.
Praise for Empire of Ice and Stone: The Disastrous and Heroic Voyage of the Karluk
"Levy writes beautifully about the cold. His Arctic is fearsome and sublime, his ice a living thing. His passion for this alien landscape is infectious — something to appreciate from underneath a pile of blankets while wearing very warm socks." —New York Times Book Review
"The gripping account of a fatal polar adventure. Hair-raising suffering and heroism in the Arctic." —Kirkus Reviews
"Full of evocative descriptions, harrowing action scenes, and incisive character sketches, this is a worthy addition to the literature of Arctic exploration." —Publishers Weekly

"[R]eads more intensely than a thriller." —Library Journal

"Readers who love a well-told Arctic tale of adventure and courage should add Empire of Ice and Stone to their winter reading." —Shelf Awareness

"Levy tells the incredible tale of the genius of Bartlett leading his unseasoned crew over the ice to Wrangel Island in the dead of winter, and then of his own desperate 700-nautical-mile journey over the ice to Siberia to try to find help to rescue the survivors, vividly bringing this harrowing tale to life." —Explorers Journal

"[Levy] is a master storyteller whose latest thoroughly researched, spellbinding narrative is both profoundly horrifying and heroic...His well-paced, captivating writing is chock-full of vivid imagery and description, making a gripping true tale all the more haunting, powerful, and hard to put down...an intense and riveting read." —Washington State Magazine

"Against the backdrop of incomprehensible Arctic Ocean survival at the close of the age of exploration, Buddy Levy contrasts the consequences of men's motives for leadership in a page-turning life-and-death epic that is so detailed and so well-developed that a reader can feel the frozen brine of an open lead in mid-winter pack ice, the gnawing pit of starvation, and the heart-warming compassion of a ship's captain who will stop at nothing to save the men, women, children, and animals for whom he is responsible." —Roman Dial, adventurer and national bestselling author of The Adventurer's Son
"With a cast of eccentric and fascinating characters on a grand adventure - and misadventure - in one of the most extreme regions of the world, Empire of Ice and Stone ranks with the great exploration and survival epics in history. Hubris, jaw-dropping incompetence, callous self-interest and ultimately heroic determination and sacrifice all grapple for top billing. Buddy Levy's writing and narrative sense is top notch and really brings this incredible story to life." —Stephen R. Bown, national bestselling author of Island of the Blue Foxes: Disaster and Triumph on the World's Greatest Scientific Expedition and The Last Viking: The Life of Roald Amundsen
"With Empire of Ice and Stone, Buddy Levy once again proves his mastery of historical journalism, spinning exhaustive research into storytelling gold. In vivid details and haunting images that graphically recreate often heroic, often horrifying events, Levy keeps us spellbound, turning page after page, breathless to see who, if anyone, can survive such unimaginable conditions. Whether a fantastic feat of human endeavor or the folly of man's quest to conquer the final reaches of terra incognito, in Levy's sure hands, the Canadian Arctic Expedition becomes a life-and-death drama of tragic proportions. Brimming with malevolence and malfeasance but also humble charity and true nobility, Empire of Ice and Stone is a triumphant exploration of the forces that drive the human heart to extremes." —Kim Barnes, Pulitzer finalist and award-winning author of In the Kingdom of Men
"Brace yourself for an edge-of-the-seat excursion not only through one of the more harrowing environments on the planet, but into an utterly vanished era, when exploration of the globe's farthest reaches seemed to require equal parts bravery and lunacy. Buddy Levy relates the terror, travails, and sheer will to survive when such an expedition went disastrously awry. Expertly documented and beautifully described, Empire of Ice and Stone is a grand testament to the human impulse to risk adventure, seek new shores, and try to return again from the frozen beyond…" —Malcolm Brooks, national bestselling author of Painted Horses and Cloudmaker
"In his profoundly engrossing follow-up to Labyrinth of Ice, Levy brilliantly unveils new, terrifying dimensions of the Arctic's cruel power, and further outlines the admirable folly of the men who dared to confront it. Like so many explorers of the so-called heroic age, Levy has been pulled back to that deadly landscape as if by magnetism. How fortunate we all are for it." —Julian Sancton, New York Times bestselling author of Madhouse at the End of the Earth

"With Empire of Ice and Stone, Buddy Levy brings the harrowing story of the Karluk to vivid life. The doomed ship and her crew face catastrophes beyond enduring again and again, and Levy skillfully keeps the reader dreading what will happen next." —Andrea Pitzer, author of Icebound: Shipwrecked at the Edge of the World

"Levy's masterful storytelling put a chill in my bones and despair in my heart as the survivors of the Karluk tragedy struggled onward. Empire of Ice and Stone is a wonderful telling of a horrible voyage." —Jim Davidson, high-altitude climber and New York Times bestselling author of The Next Everest
"If it has Buddy Levy's name on it, I just know it's going to be a great read, and "Empire of Ice and Stone" does not disappoint! It's one of my favorites this year." —Marya Johnston, Owner, Out West Books