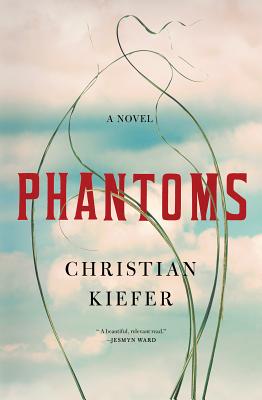 Phantoms: A Novel
Publication Date:
April 9th, 2019
Diane's Books of Greenwich
7 on hand, as of Sep 30 5:15pm
(HARD COVER FICTION)
On Our Shelves Now
Description
Kirkus Reviews • Best Historical Fiction of 2019
The Millions • "Most Anticipated" Books of 2019
Torn apart by war and bigotry, two families confront long-buried secrets in this haunting American novel of World War II and Vietnam.
Ray Takahashi's return from the battlefields of World War II should have been triumphant, but the fragrant, budding orchards of his rural Northern California home hide a secret that has destroyed everything he holds dear. With his hair now trimmed short and his newly broadened shoulders filling in his uniform, nineteen-year-old Ray approaches the small house in which he grew up, tucked behind rows of plum trees he planted with his father, only to find it occupied by a family he has does not know, a white family.
Two decades later, John Frazier adjusts to his own homecoming. Detoxing from a dope addiction acquired in the barracks of Vietnam, yet still aching to write the next great American novel, he struggles to silence the phantoms that have trailed him from the muddy jungles. Frazier's ambitions are put on hold when he finds himself an unwitting witness to a confrontation, decades in the making, between two steely matriarchs: his aunt, Evelyn Wilson, and her former neighbor, Kimiko Takahashi.
From the halcyon days of pre–World War II Newcastle, when fruit trees glowed like jewels, through the dusty, cramped nights of Tule Lake, and the wayward years of the post-Vietnam era, Phantoms weaves the splintered stories of two families as they seek an impossible closure. A jarring examination of the personal cost of American exceptionalism and imperialism, and the ghosts that haunt us today, this saga affirms Christian Kiefer's expanding place in contemporary literature.
Praise for Phantoms: A Novel
Sweet life spills from every perfect word. It will break your heart, and in the breaking, fill you with bittersweet but luminous joy.
— Kirkus Reviews (starred review)
Haunting.... Ray's poignant suffering is but one example of the bigotry and fear experienced by Japanese born U.S. citizens after Pearl Harbor, the same bigotry and fear of the other that still sadly exists in America today.... YA: Ray's story of young love and loss as well as an often omitted aspect of WWII history will resonate with teens.
— Deborah Donovan, Booklist
Kiefer's sweeping novel (after One Day Soon Time Will Have No Place to Hide) examines the ways war shapes the lives of ordinary people.... Kiefer's story sheds light on the prejudice violence ignites and on the Japanese American experience during a fraught period of American history, and makes for engaging and memorable outing.
— Publishers Weekly
Christian Kiefer is a masterful writer, and this magisterial novel is aching with beauty and power. This is a great book.
— Luis Alberto Urrea, author of The House of Broken Angels
Set in the golden foothills of the Sierra Nevada and spanning the middle decades of the twentieth century, Phantoms tells the intertwined stories of two families, two wars, and two soldiers trying to make their way home. Exploring the brutal legacies of racism and war with unflinching honesty and incandescent prose, this novel asks: Who gets to tell their stories, and who doesn't? What if you're entrusted with—or thrust into—someone else's story? Who gets to find their way home?
— Naomi J. Williams, author of Landfalls
Christian Kiefer's Phantoms is a kaleidoscopic marvel. With each new chapter, Kiefer deftly turns the dial, shifting patterns and textures and hues, urging us to question assumptions and to reconsider old truths. In confronting the complex legacies of World War II and Vietnam, Kiefer has delivered a haunting story of the past that will make us see the present anew.
— Kirstin Chen, author of Soy Sauce for Beginners and Bury What We Cannot Take