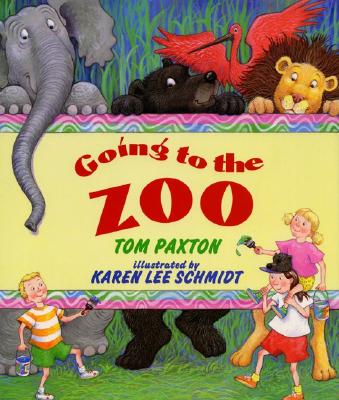 Going to the Zoo
Publication Date:
April 26th, 1996
Diane's Books of Greenwich
15 on hand, as of Sep 30 5:15pm
(CHILD PICTUREBOOKS)
On Our Shelves Now
Description
Daddy's taking us to the
zoo tomorrow,
zoo tomorrow, zoo tomorrow.
Daddy's taking us to the
zoo tomorrow.
We can stay all day.
Now you can go along too, as Tom Paxton's classic song comes to life in this boisterous picture book. Rhythmic verse leads you through a wild kingdom where animals burst from every page. Monkeys are scritch, scritch, scratchin', and kangaroos are hop, hop, hoppin', making every moment an adventure.
Karen Lee Schmidt's lively, irresistible illustrations show the animals up to all sorts of mischief. And with the easily played melodies included, this musical menagerie is every bit as fun as a trip to the zoo. Youngsters will want to "stay all day" -- and come back again and again!
About the Author
Tom Paxton, author of The Story of the Tooth Fairy and The Story of Santa Claus, lives in Alexandria, Virginia.
Tom Paxton has been an integral part of the folk music community since the Greenwich Village scene of the early sixties. His classic songs, including "Ramblin' Boy," "The Last Thing on My Mind," and "Bottle of Wine," have won him the admiration of fans all over the world. He hosted the acclaimed BBC Radio series "Tom Paxton's America" and was chosen as honorary chairman of the board of the World Folk Music Association. He has created six songbooks, thirty-two albums, and countless memorable concerts. Philip Elwood of the San Francisco Examiner noted, "What seemed like the entire audience was singing along. No one told them to, or directed them-they just were.
Paxton's songs, inspired by everything from family love to homelessness and recorded by such diverse stars as Willie Nelson and Placido Domingo, have stirred the emotions of three decades of audiences. Paxton is also finding ways to influence a new generation through such beloved children's songs as "My Dog's Bigger Than Your Dog," "Going to the Zoo," and "The Marvelous Toy." Under his children's label, Pax Records, he has released several acclaimed albums, including Suzy Is a Rocker, winner of the prestigious Parents' Choice Gold Medal. His children's music has led him into a successful new career as a picture-book author. "I love the way books inspire songs and vice versa," he says. "But, most important, I have a real sense of discovery in having found yet another place where I belong."
Scott Alarik of the Boston Globe praised Tom Paxton for "applying the same tools he developed for adult audiences to his children's songs, giving them an intelligence, wit and lack of condescension too rarely heard in today's booming children's music market."
Tom Paxton lives in East Hampton, New York, when he is not on tour. He and his wife, Midge, have raised two daughters, Jennifer and Kate.