Staff Pick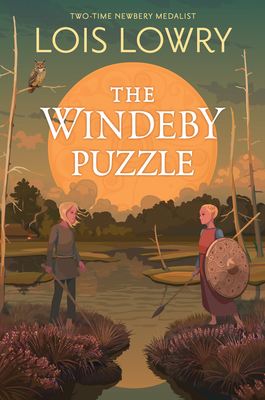 The Windeby Puzzle: History and Story
Publication Date:
February 14th, 2023
Diane's Books of Greenwich
3 on hand, as of Sep 30 5:15pm
(CHILD MIDDLE READERS)
On Our Shelves Now
Staff Reviews
This book didn't get as much acclaim as Lowry's others, but I did find it quite interesting. In May 1952, on an estate called Windeby in northern Germany workmen found preserved body parts. Scientists determined that these child parts were around two thousand years old. Lois Lowry engages her readers to follow along with her imaginative retelling of the mysterious history. Anyone interested in writing and storytelling will be captured by Lowry's process. 
— Dimple, Diane's Books of Greenwich
Tell someone's story, and they live forever. Even someone you never knew, like a child buried in a bog in Windeby, Germany, in the first century AD. This book gently wraps warm narrative around a cold news story to bring 'the bog body' to life.
March/April 2023 Kids Indie Next List
Description
Newbery Medalist and New York Times bestselling author Lois Lowry transports readers to an Iron Age world through the suspenseful dual narrative of a boy and girl both battling to survive. In an utterly one-of-a-kind blend of fiction and history, a master storyteller explores the mystery and life of the 2,000-year-old Windeby bog body.
Estrild is not like the other girls in her village; she wants to be a warrior. Varick, the orphan boy who helps her train in spite of his twisted back, also stands apart. In a world where differences are poorly tolerated, just how much danger are they in?
Inspired by the true discovery of the 2,000-year-old Windeby bog body in Northern Germany, Newbery Medalist and master storyteller Lois Lowry transports readers to an Iron age world as she breathes life back into the Windeby child, left in the bog to drown with a woolen blindfold over its eyes.
This suspenseful exploration of lives that might have been by a gifted, intellectually curious author is utterly one of a kind. Includes several arresting photos of archeological finds, including of the Windeby child.
Praise for The Windeby Puzzle: History and Story
"Moving and suspenseful…Children who are intrigued by history will find [it] enthralling. But this is also a book for young writers. Lowry the magician is willing to take us backstage and show us her tricks. "The Windeby Puzzle" explores not only how a master craftsman builds her story but why." — New York Times Book Review
 "This book, [Lowry's] answer to probing questions, beautifully illustrates the interaction between idea and execution, illuminating the architecture of storytelling. Dramatic full-page art by Stroh as well as photographs add intrigue." — Kirkus Reviews
"Moving and engrossing… After learning about an ancient body found in a peat bog, Lois Lowry imagines the life that might have been in this captivating blend of fiction, archeology and bog biology."  — Shelf Awareness
"In this brief, evocative work that examines the past through a meta lens, a vividly sketched portrayal emphasizes the community's rigid gender roles and rhythms of daily life amid the natural world."  — Publishers Weekly
PRAISE FOR ON THE HORIZON: "ON THE HORIZON is deeply felt and emotive, not about sides but about people, sure to lead readers to think deeply on these dual tragedies of war. A must for all collections." — Booklist (starred review)
PRAISE FOR THE WILLOUGHBYS: "The tone of this darkly dry pastiche is consistently witty, and it's chock-full of accessible parodic references to...classic children's texts." — Bulletin of the Center for Children's Books (starred review)
PRAISE FOR THE GIVER: "Lowry is once again in top form raising many questions while answering few, and unwinding a tale fit for the most adventurous reader." — Publishers Weekly (starred review)
"The stories are tightly woven and moving, built of gritty, convincing detail and written in the cadenced rhythm of which Lowry is a master. But it is in the essays that she tackles, head-on, big questions of mortality and meaning in a way that is most unusual, honest, and deeply respectful of her young audience." — Horn Book Magazine