Staff Pick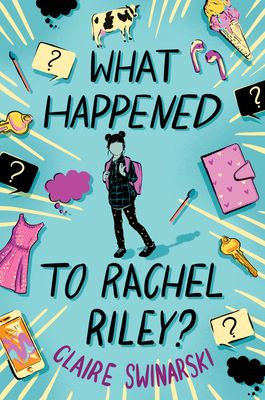 What Happened to Rachel Riley?
Previous price:

$19.99
Current price:

$16.99
Publication Date:
January 10th, 2023
Publisher:
Quill Tree Books
Diane's Books of Greenwich
6 on hand, as of Sep 30 5:15pm
(CHILD MIDDLE READERS)
On Our Shelves Now
Staff Reviews
This book was featured in an article from Publishers Weekly. The spotlight was on the diversity of narration in modern times. The story unfolds through normal prose, text message, flyers, emails, and voice recordings. Anna arrives as a new student at a middle school and becomes curious about a single student who is totally ignored. "Rachel Riley, who just last year was one of the popular girls in school, has become the resident outcast." Middle school and social interactions are especially hard for girls during this stage in life. This book does a great job of instilling confidence and a way forward. With the support of her family, Mom who is a lawyer, and Dad who makes excellent dinners, Anna is able to discover the truth and stand by her friend.
— Dimple, Diane's Books of Greenwich
This book turns the 'boys will be boys' excuse on its head and empowers all genders to stand up for what they know is right. While the book deals with a serious topic, the way it's written makes it a fun, entertaining, and relatable story.
January/February 2023 Kids' Indie Next List
Description
*NOW A REGIONAL INDIE BESTSELLER*
In this engrossing and inventive contemporary middle grade novel that's Where'd You Go Bernadette? with a #MeToo message, an eighth grader uses social media posts, passed notes, and other clues to find out why a formerly popular girl is now the pariah of her new school. 
Anna Hunt may be the new girl at East Middle School, but she can already tell there's something off about her eighth-grade class. Rachel Riley, who just last year was one of the most popular girls in school, has become a social outcast. But no one, including Rachel Riley herself, will tell Anna why.
As a die-hard podcast enthusiast, Anna knows there's always more to a story than meets the eye. So she decides to put her fact-seeking skills to the test and create her own podcast around the question that won't stop running through her head: What happened to Rachel Riley?
With the entire eighth grade working against her, Anna dives headfirst into the evidence. Clue after clue, the mystery widens, painting an even more complex story than Anna could have anticipated. But there's one thing she's certain of: If you're going to ask a complicated question, you better be prepared for the fallout that may come with the answer. 
Praise for What Happened to Rachel Riley?
"What Happened to Rachel Riley has every single thing a middle grade reader could want: a twisty mystery; relatable, authentic teen characters; and the kind of demonstrated courage that seeps into our souls and leaves us feeling brave. This book is going to change lives." — Carrie Firestone, author of Dress Coded
"What begins as a look into bullying and the social politics of middle school expands into a revealing study of sexual harassment. An empowering and empathetic companion to Barbara Dee's Maybe He Just Likes You and Brigit Young's The Prettiest." — Booklist (starred review)
"This book is incredibly relevant and empowering for readers, and would serve as a powerful conversation starter. Swinarski's writing is compelling and multifaceted, tackling themes of friendship, betrayal, and harassment beautifully, while keeping them accessible to middle schoolers. Hand to fans of Barbara Dee's Maybe He Just Likes You." — School Library Journal (starred review)
"Both timely and, unfortunately, timeless in its depiction of systemic sexual harassment and and frustratingly inappropriate reactions from authority figures and peers. This compelling novel urges readers to consider what they might do in similar situations and reminds them that 'sometimes, fairness has to be demanded instead of waited for.'" — BookPage.com (starred review)
"A good fit for classroom or book club reading and discussion [and] a useful addition to the pool of middle-grade books about sexual harassment at school." — Kirkus Reviews
"In a quietly suspenseful book, Swinarski shows how frequently written-off behavior can constitute sexual harassment, and how individuals can create change by having the courage to question the narrative." — Publishers Weekly
"The unraveling mystery is compelling. Pair this with Maybe He Just Likes You for a much-needed conversation with middle schoolers about harassment." — Bulletin of the Center for Children's Books